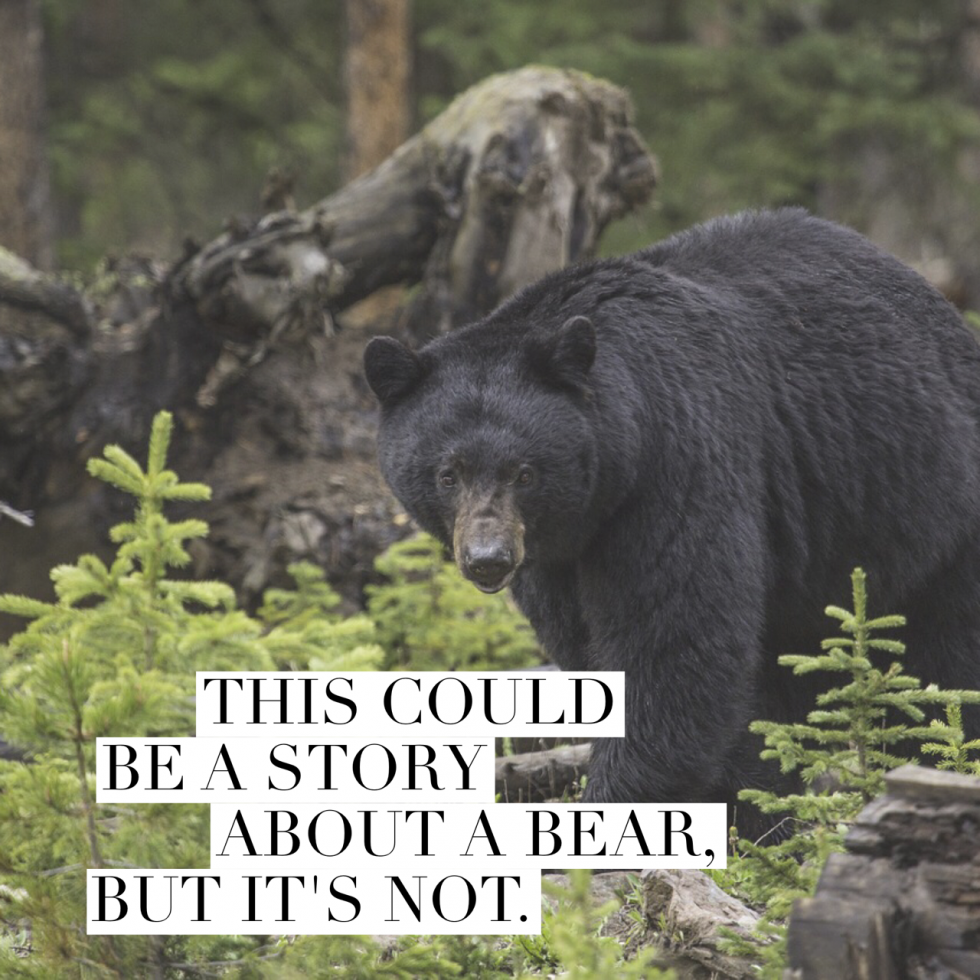 The Power of Kindness
"A single act of kindness throws out roots in all directions, and the roots spring up and make new trees. The greatest work that kindness does to others is that it makes them kind themselves." ~ Amelia Earhart
This could be a post about the bear I encountered last week in the North Shore mountains, but it's not.
While the bear was a great reminder that I need to be more prepared when I hike, the experience was a greater reminder of the power of kindness.
Ryder, my mini-dashund, and I had almost finished our hike when we encountered the big black bear standing in the middle of the trail. After we had moved safely back down the path, I realized the bear had blocked the only way back to the trailhead.
A passing hiker offered to walk us out of the forest to a road. A road, with a few turns here and there, would eventually lead me back to my car. His multitude of directions was too much for my broken brain and as quickly as he delivered them to me, they slipped from my memory. Too embarrassed to ask him to repeat the directions, I simply nodded and thanked him for getting me safely to this point
After meandering through the residential area for quite some time I realized we were lost.
Then I met Colleen.
She was unloading her dogs from the back of her truck when I approached her and told her my predicament. Without hesitation she offered to drive us back to the other side of the river.
I was stunned by her offer of kindness.
When I asked her if that was an inconvenience, she responded with,  "No way! It's just a short drive."  I was in awe as she put her dogs back in the truck, including my own, and invited me into the front seat with her.
Why am I so shocked by her kindness?
In a busy city where everyone is rushing around, tuned out with headphones to focus on the solitary world inside their cell phones, few people take the time to help their fellow human being.
The conversation with Colleen on the drive back to my car, left me feeling deeply connected and my heart expansive with joy and dare I say it, l felt loved. A stranger, who knew nothing about me, made space in her life to help me when I was lost and tired. I was deeply moved.
Days later I continue to feel incredible gratitude for her gift of kindness.
I didn't get her contact details. I wish I had. I would tell her that she had inspired me.
Her random gift has made me more conscious of my own actions and how I can infuse more kindness to the souls I encounter daily.
It only takes a few minutes to offer a lost tourist some directions, to hold the door open for the mom with her stroller, or spend a few pennies to buy a bagel for the hungry man outside my coffee shop.
Never underestimate the power of kindness.
The gift of helping another soul flows both ways. You may never know how much happiness you bring to someone's life by your random act of kindness but you will definitely feel the genuine expanded happiness in your own.
With love + light,