True healing starts where two hearts connect.
Reiki  (ray-key) is a Japanese technique for stress reduction and relaxation that also promotes healing and well-being. It is a gentle and non-intrusive therapy that can benefit horses and humans physically, emotionally, and spiritually.
How Does Reiki Work?
When in good health energy flows through the body much like an electric current. However, a number of factors can interfere with this flow in horses. Among them are physical injuries, trauma, illness, stress of traveling, moving barns or a combination of these stressors. Any blockage of energy can result in physical, psychological, or behavioural problems. Equine Reiki restores positive energy flow into the animal's body, clearing blocks and correcting imbalances. By bringing the horse's body back into balance it can heal itself on all levels.
What are the Benefits to Reiki?
Horses are very sensitive energy and respond well to a reiki treatment.
Healing benefits include:
Promotes relaxation
Reduces tension & nervousness
Stimulates the horse's own innate healing ability
Strengthens immune system
Aids in improving sleep
Helps ease separation anxiety
Supports animal compassion fatigue
Offers support with end of life support transitions
Reiki complements traditional medicine and is not meant as a substitute for any veterinary care.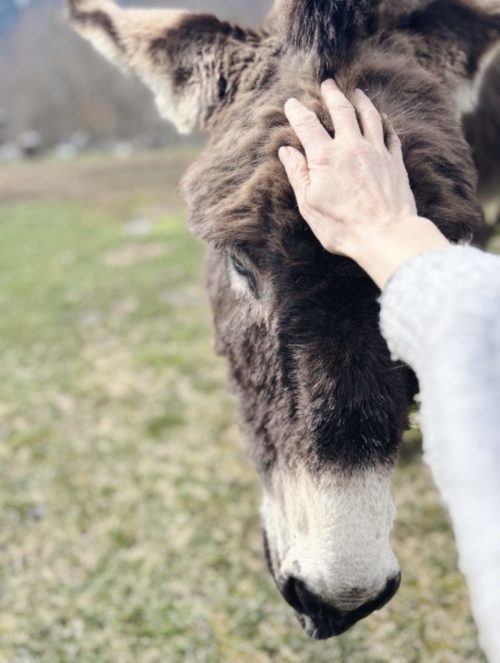 Reiki may help remove trauma on an energetic level, replacing the pain with love, to allow for healing to occur.
Let the Horse Lead
Reiki is one of the few treatment modalities where horses have complete autonomy. Reiki only works with the horse's consent.  By asking for the horse's permission to proceed with the treatment I know that the horse is open and ready to receive the healing for their highest good. The healing does not come from physical contact. Some horses don't want to be touched. This does not affect the effectiveness of the treatment. Reiki's healing energy comes from a much deeper place, beyond our conscious awareness: the place of heart to heart connections.
"Reiki can do no harm and will not give more to the animal than he or she is open to receive." ~ Kathleen Prasad
My Path to Reiki
When I first heard about reiki I had just began my coaching practise and was curious to how this gentle healing modality could improve health and wellness. The more I learned about energy healing the more I felt compelled to train in this modality. Shortly after I completed my second level of study I began offering reiki to my coaching clients.
In the winter of 2020 I adopted a sweet Morgan mare who was living with chronic lameness and pain. While we tried massage, acupuncture, chiropractic, and osteopathic treatments to help her, everything seemed to either overwhelm her nervous system or increase her pain. I felt helpless watching Skye struggle for months until I remembered my human reiki training.
Being able to offer Skye a gentle non-invasive treatment was the start of our rehabilitative journey. With regular reiki treatments Skye was able to relax and re-establish a sense of peace. I watched her behaviour and mood shift as energy and healing began to flow through her body. Witnessing the difference reiki was making to Skye's physical and emotional health, and simultaneously witnessing the other horses and donkeys in her paddock eager for their own treatments, my desire to learn about equine specific reiki was ignited.
My Reiki Training
I have completed Equine Reiki practitioner levels 1 & 2 with Reiki Master Teacher, Kathryn Hofstetter at Open Heart Horsemanship. Additionally, I have studied the Usui System of Natural Healing with Sr. Eileen Curtis at Queenswood School of Reiki and completed Kathleen Prasad's Let Animals Lead Reiki Core Curriculum. I have also completed certifications and courses in:
Equine Psychology- Diploma
Emotional Horsemanship
Energy Healing for Horses
Herbal Medicine for Horses
Aromatherapy & Flower Essences for Horses
Acupressure for Horses
Equine Cranialsacral Therapy
Language & Calming Signals in Horse
What Happens in a Session?
Reiki is "offered" to the horse without forcing the treatment and without holding any expectations of how the session will unfold. Horses are very sensitive to energetic frequencies and will immediately understand the nature of the healing being offered. Often the horse will come forward and put his nose into my hands as soon as the treatment begins. He will then choose to take Reiki in the way he needs most, often moving to reposition his body to the area in most need of attention.
Normally, a Reiki treatment will consist of a combination of hands-on and hands-off, depending on the comfort and preference of the horse. In rare cases, a horse may choose not to receive a treatment on a particular day; if that happens we can try again another time. You will see that your horse is open to the treatment by the signs of rest and relaxation: licking and chewing, frequent yawning and deep sighs, and/or falling asleep. The average Reiki treatment lasts from 30 to 60 minutes, and ends when the horse decides to move away from the energy.
Treatment
 I offer reiki as a complimentary service to expand peace in the lives of horses and their guardians. 
Recipients can notice improvements in just one session. However, the effects of energy healing are cumulative. Most issues are best served by a series of treatments, 2-6 sessions, that create a foundation for long term results.
 A small travel fee is charged for travel  Squamish or Vancouver, Canada.
Schedule a Session 
If you have questions about Reiki or you'd like to book a treatment for your horse please email me at connect@desireesher.com.