Meet Desirée
Hi! I'm Desirée.

As a coach, inspirational speaker and podcast host, I have shared with thousands of men and women how to transform your life in tough times through connecting to your inner power.

Through my own breakdowns and breakthroughs that I experienced by surviving a stroke, multiple losses of loved one, divorce and then a car accident, which left me  without the full use of my voice for over a year, I discovered a blueprint to living the life I craved filled with clarity, joy, and abundance. Now I am on a fiery mission to share those lessons with others.

Staring my own fitness franchise in 2008 I quickly realized I wanted to help women on a deeper level. I expanded my interest in healing by becoming a level two reiki practitioner before opening my life coaching  business in 2012.

I wake up excited every day to inspire, empower and support others to live create a life the love, This is my passion and what lights me up every single day.

I am also the editor of the Inspire magazine, author of the book, Refuse to Sink and past host of the Power Up with Desiree podcast.
My Purpose is to help you
Expand your happiness

Reconnect to the dreams and desires that are aligned with your soul's purpose and make you feel happy, healthy and fulfilled.

Step into your power so you can move from being a victim of circumstances to becoming the creator of a life you love.

Move through the fears, habits and other obstacles that are blocking you from having everything you desire.

Take action so that you can move from where you are to where you dream about.
"Our deepest fear is not that we are inadequate. Our deepest fear is that we are powerful beyond measure…"
My Journey
I had spent most my life living life plagued by self-doubt, fear and the belief I wasn't worthy of my dreams. As a result of living in this mind-set I made poor choices in love, work and life.
I thought I would be happy when I….
completed another workshop or took another course
ran another marathon
found the next relationship
took on a new job or more clients
started another business
made more money
lost a few pounds
So I pushed myself to work harder to change my outer world. Yet, every time I attained what I thought would fill up the emptiness and sadness, I wasn't any happier.
I couldn't understand why everyone around me seemed so happy and care-free in their life when I was feeling so lost and miserable in my own.
I craved freedom from feeling sad and afraid. I read self-help books. I attended workshops. Yet, the peace and joy all the guru's talked about, eluded me.
Then six years ago a storm hit.
I struggled through a series of losses that hit in rapid succession– divorce, loss of loved ones, change in my financial standing, an illness. These events left me broken wide open and filled with grief and despair.
I felt powerless to change my life. I was living in darkness and overwhelmed with fear. I wanted someone to help me fix things.
The Moment That Everything Changed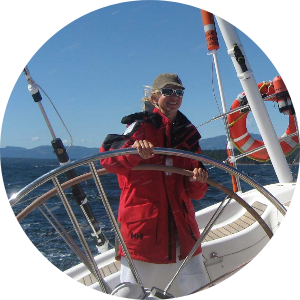 One morning while lying in bed, not wanting to get up to my own life, it hit me. I was responsible for this dark and unhappy place I was in. While I couldn't control all the circumstances that I was experiencing I could however, control how I responded to them.
As I examined my life I realized I had to take responsibility for my life- the good, the bad and the ugly. And the unhappiness I was experiencing at that moment was a result of a negative mindset and a series of poor choices. Choices I had made, and not made, throughout decades of believing that I didn't matter, that I wasn't worthy of love or abundance. When you make choices about your life from this limiting mindset, you don't make the best choices for your life.
I  realized that I had brought myself, in part, to this place of hopelessness and suffering. I also awoke to the realization that no one was coming to rescue me. I had to become the heroine of my own story!
I had always thought all I could do was react to what seemed like cruel and unfair circumstances. I didn't understanding that I could become a creator of my own life.
Realizing that if I had the power to manifest this dark unhappy place, I could use my power to make make new empowered choices and create something different for myself, and my kids  I could create the happiness I longed for.
That tiny piece of wisdom was exciting and incredibly energizing!
Now I'll be honest.
It wasn't that the fear just suddenly disappeared and overnight my life changed. Nope, the fear was still looming large. Taking action to change my life, even one that wasn't working any more, was terrifying.
Yet, in that moment my desire for something more and believing I was worthy of more, provided me with the energy and courage to take action despite the fear and self-doubt.
I made the choice to Be Happy!
Then I made the choice to take courageous inspired action.
I hired a life coach who worked with me to clear the limiting beliefs from my inner world. I began to believe in my worthiness and started to direct some of the love I had been giving away to others back to myself.
I started meditating. I went to yoga. I started a blog to share my journey with other women.
That one small shift in my thinking, to choose happiness and take control of my life despite my circumstances, began a whole life transformation.
Now I would love to tell you that all the days that followed those insights were filled with ease and grace. They weren't. There were countless days while fighting a custody battle and going through brain rehab, that making the choice to Be Happy was incredibly difficult. There were lots of days when the only empowered choice I could make was to feel the pain and start again tomorrow.
And I did start again.
I chose to become a certified life coach so I could share my insights with other women. I started the Soulful Adventures blog. I moved back to the city that inspired me. I wrote my first book. I became an inspirational speaker and host of my own podcast show.
And my life continues to shift the more I make the daily choice to Be Happy, to believe in my own worth and take inspired action. Miracles happen when you take that first step.
Here are some of YOUR Next Steps towards Happiness:
1) Learn More
Check out my soulful articles on pursuing your dreams, taking courageous action and choosing happiness.
2) Book a Discovery Call
Learn more about coaching and the programs I offer by booking a free call or sending me an email. I'd love to hear from you.
Make the rest of your life, the best of your life!
You are so worth it!