Happy Book List
Walk into any bookstore and you will notice an explosion of books on happiness. Each brightly coloured cover promises a new path to increasing what we all want most- increase positivity and joy. While some of the books are based on research and others take a more spiritual approach, they all have share one common trait: they take their happiness very seriously.
May Cause Miracles: A 40-day Guidebook Of Subtle Shifts For Radical Change And Unlimited Happiness
by Gabrielle Bernstein
Gabrielle Bernstein believes that simple, consistent shifts in our thinking and actions can lead to the miraculous in all aspects of our daily lives, including our relationships, finances, bodies, and self-image. In this inspiring guide, Gabrielle offers an exciting plan for releasing fear and allowing gratitude, forgiveness, and love to flow through us without fail.
The Happiness Advantage: The Seven Principles of Positive Psychology That Fuel Success and Performance at Work  by Shawn Achor
Conventional wisdom holds that if we work hard we will be more successful, and if we are more successful, then we'll be happy. Achor believes we have it backwards. Happiness fuels success, not the other way around.
Happier: Learn the Secrets to Daily Joy and Lasting Fulfillment by Tal Ben-Shahar
Summary: Grounded in the positive psychology movement, Ben-Shahar combines scientific studies, scholarly research, self-help advice, and spiritual enlightenment weaving them together into a set of principles that you can apply to your daily life.
The Book of Awesome by Neil Pasricha
This book is a a big celebration of life's little moments and the underappreciated, simple things that make us happy, from popping bubble wrap to hitting a bunch of green lights in a row, to waking up thinking it's Monday and realizing it's Saturday. This book is truly AWESOME!
The Art of Happiness by the Dalai Lama
When life gets complicated we need to take a step back and remind yourself of our overall purpose or goal. By reflecting on what will truly bring us happiness we can reset our priorities accordingly, giving us a fresh perspective.
Shift Happens: How to Live an Inspired Life… Starting Right Now! by Robert Holden
This little book celebrates your unlimited potential to grow, blossom, and evolve-in spite of everything. It is a book of hope.
Stumbling on Happiness by Daniel Gilbert
We aren't very good at predicting what will make us happy, says Harvard professor Gilbert. Challenge what your imagination dreams up for the future. Strike a balance between feeling good enough to cope with a situation but bad enough to do something about it. Use your emotions as a compass to tell you what to do.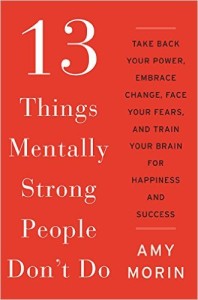 13 Things Mentally Strong People Don't Do: Take Back Your Power, Embrace Change, Face Your Fears, and Train Your Brain for Happiness and Success by Amy Morin
The psychotherapist offers simple yet effective solutions for increasing mental strength and finding happiness and success in life.
Happiness: A Guide to Developing Life's Most Important Skill by Matthieu Ricard and Daniel Goleman
A molecular biologist turned Buddhist monk, described by scientists as "the happiest man alive," demonstrates how to develop the inner conditions for true happiness.
Authentic Happiness: Using the New Positive Psychology to Realize Your Potential for Lasting Fulfillment by Martin E.P. Seligman
Pleasant life might be champagne and a sports car, but the good life is using your signature strengths every day to produce authentic happiness and abundant gratification. Written by the founder of the positive psychology movement.
Zen and the Art of Happiness by Chris Prentiss
Cutting-edge science and spirituality tell us that what we believe, think, and feel actually determine the makeup of our body at the cellular level. In Zen and the Art of Happiness, you will learn how to think and feel so that what you think and feel creates happiness and vibrancy in your life rather than gloominess or depression.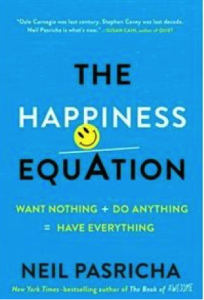 The Happiness Equation: Want Nothing + Do Anything = Have Everything by Neil Pasricha
In this book, Pasricha illustrates how to want nothing, do anything, and have everything. There are 9 secrets and each seret takes a common ideal, flips it on its head, and casts it in a completely new light. Pasricha then provides step-by-step guidelines that illustrate exactly how to apply each secret to live a happier life today.